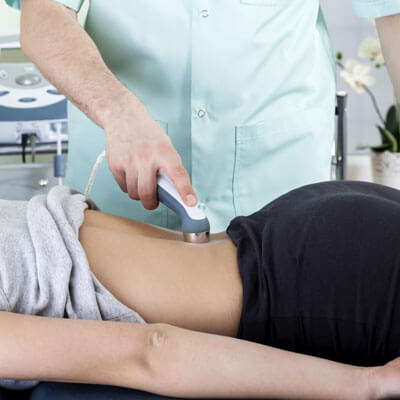 Laser Therapy at
Loveland Family Wellness
Laser therapy (also called low-level light therapy) has become very popular in recent years, and with good reason. It's a safe, painless, drug-free modality that has been shown to facilitate healing at the cellular level.
It works by directing a beam of specific wavelengths of light into the affected area. The light is absorbed by the cells of the tissue, producing a reaction in the mitochondria of the cells. This helps heal the tissues at a cellular level and also helps eliminate toxins that collect in nerve cells.
NEW PATIENTS

Our Approach
At Loveland Family Wellness, we use an Erchonia laser, which is one of the highest-quality lasers on the market and has been FDA approved for 19 different conditions, including such things as back pain, loss of taste related to COVID, balance, shoulder problems and many more. It's important to note that we use a true Class IV laser, while many chiropractic offices who claim to offer laser therapy only offer LED lasers.
We use a cold laser, meaning it does not produce heat so there is no risk of burning or other issues. It's completely painless, and many patients don't feel anything during the therapy itself.
Dr. Peterson will conduct a thorough examination to determine if this modality may be beneficial for you (it probably is—most people can benefit from it!) and to determine where to direct the device. He'll demonstrate how it works on your hand, so you can see and feel what to expect.
This therapy takes just a few minutes, and can be repeated for several sessions to achieve full results. Most patients notice improvement after just one session.
Schedule Today
We offer cold laser therapy as an adjunct to chiropractic care or as a stand-alone service. Contact us today to learn more or to book your first appointment.
CONTACT US
---
Laser Therapy Loveland CO | (970) 667-1910